Frequently Asked Questions




Q. How long does a foam roof last?

A. A properly maintained foam roof lasts indefinitely. There are many foam roofs that are 30-40 years old currently offering the same level of protection as when originally applied.

Q. How difficult is it to maintain a foam roof?

A. One of the advantages of foam roofs is their easy maintainability. Penetrations of the roof service from wind damage, dropped tools, etc. can simply be patched with polyurethane caulking. A variety of coating choices are available with from 5 to 20 years of expected protection from UV rays. Timely recoating will bring the roof back to it's original condition.

Unlike some roofing systems, foam is a monolithic surface and does not shrink so there are no patched seams to deteriorate, seperate or leak as you move down a predisposed life cycle.

Q. Does FoamCoat provide recoating services?

A. Yes, and there have been significant improvements in coatings. Many times we can upgrade the coating so that the roof may be even better than when it was originally installed.

Q. How can I determine if a foam roof is a good choice for my roof?

A. There are guidelines where foam is particularly good: flat, low slope, metal roofs and roofs with multiple penetrations. The simplest way is to call us and we'll help you evaluate foam as a choice for your roof and provide an estimated cost.

Coating Questions:
Q. What is an elastomeric coating?

A. The term elastomeric covers basically all coatings used over foam. It is a general term that indicates a coating has "elasticity", a basic requirement for a foam coating.

Q. Why are there so many different types of coating for foam:

A. There are four basic coating choices used over foam. Each has different characteristics and which is best for a project is dependent on the project. Variables such as weather, importance of appearance, traffic on the roof and others can impact the selection. I will offer some thumbnail guidelines on each of the four:

Acrylics – The cheapest of the coating choices and generally applicable for average or steep sloped roofs. Acrylic coatings are not recommended in the industry for flat or low-slope roof applications. Think of it like an acrylic paint; which you would not typically use where you expect to have water and humidity. Acrylics do offer the greatest range of color choices (similar to paints) and are an acceptable choice for tanks, non low-sloped roofs and other specific applications.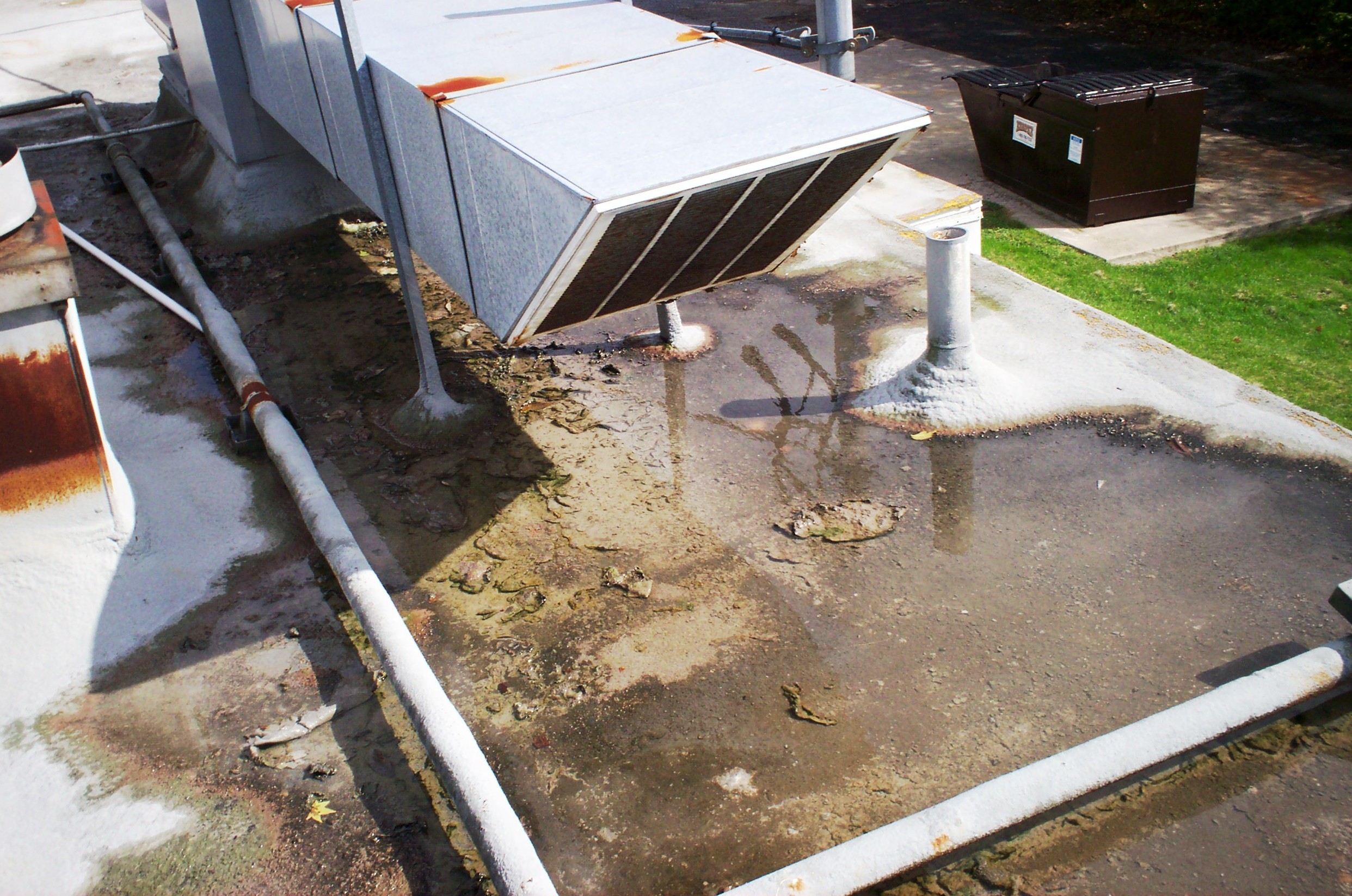 This is a flat roof where a competitor used acrylic coating, with predictable results.



Silicone – As opposed to an acrylic, silicone resists water intrusion (even usually holding up to "ponding" water). Silicone has a significantly longer wear-life than acrylic and holds its appearance better than acrylic. Silicone will capture and hold dirt more than most of the other coatings and will not tolerate foot traffic as well as a urethane or polyurea coating. One of our preferred and proven systems is silicone coating with granules embedded in the top coat. This provides outstanding wear characteristics, increased durability against hail and windblown debris and is a terrific looking roof. You can see a number of examples of this system on our project pages.

Urethanes – Urethane coatings are more expensive, but provide extra toughness. Urethanes are a good choice on roofs that get considerable traffic; like a restaurant roof where there may be considerable mechanical equipment that needs serviced and grease traps that require regular maintenance.

Polyureas – These are a unique coating that can offer advantages in elasticity, color retention and toughness if planned and executed correctly. Polyureas require application expertise and attention to detail. For the right application, and with a qualified applicator, they can be the perfect choice.