Corrosion Protection


Corrosion can be caused by chemicals, excessive humidity or other factors. Such an environment can negatively impact safety and efficiciency while generating high replacement costs for damaged structural steel, walls, ceilings, floors, etc. FoamCoat offers a variety of products and services that can protect the various parts of a structure from damage.

Structural Steel, Walls, Ceilings, Tanks, Pipes and more.

The standard practice to protect steel from corrosion has been to abrasive blast, prime and paint the steel with two coats of high quality paints. These systems only perform for 2-3 years before peeling and corrosion reoccur. Paints are permeable allowing water vapor and chemical fumes to reach steel surfaces. In addition, steel expands and contracts at different rates than paint and this also contibutes to the failure of the paint bond.

FoamCoat has successfully completed a broad variety of corrosion protection projects across a diverse set of industries and environments. Those include meeting challenges in waste water treatment plants, compost facilities and a variety of difficult plant environments. We have done work across the eastern U. S. with projects in Alabama, Illinois, West Virginia, New York, New Jersey and others.

This system is spray-applied in a two-layer composite. A special foam is first applied for insulation and as a primer and base for the coating. The coating, an unsaturated polyester resin material commonly referred to as "fiberglass", withstands highly corrosive environments. The result is superior performance in a system that is essentially maintenance-free with 15 years of documented performance history.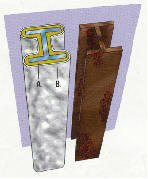 A. 1/4"-1" foam provides a resilient interlayer to accommodate expansion and contraction.

B. 1/16" Protective coating









Corrosion and Condensation Control for Structural Steel



Corrosion Control and Insulation on Steel Roofs and Siding



Interior/Exterior Systems approved for use in Food Processing

National compliance with insurance & building codes.

Note: Other items used in corrosion control applications include various coatings and waterproofing/sealing products.